Setup – Deployment of the GPC Scan solution

1 to 6 months
GPC System offers a complete installation, support and training service for the GPC Scan application to control (master) disturbances in your processes quickly.
The Setup GPC service includes:
Installation of the GPC Scan web application (local or cloud server)
Importing existing data (databases, sensors, IOT, etc.)
The construction of GPC Scan sessions from the collected data.
The definition of personalized dashboards.
User training and support
GPC System helps you solve problems that are beyond your current skills. Each intervention is designed as training to allow you to gain autonomy.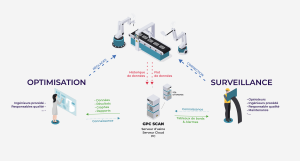 Deployment of the solution on several similar devices
In many cases, a production unit is made up of several pieces of identical or similar equipment.
When the setup of a piece of equipment is finalized, we can deploy this know-how to optimize and monitor other similar equipment more quickly using the same GPC Scan web application.