GPC SYSTEM
Process monitoring
Augmented intelligence at the heart of industrial production processes.
Anticipation of alerts, predictive maintenance
Send relevant and clear instructions to the operator
Reduction of false alarms
Rapid resolution of crisis situations
GPC SYSTEM
Process optimization
A web application software offer associated with a study, support and training service offer.
Reduction of production stoppages
Reduced scrap, rework and customer returns
Reduction of consumption and discharges
GPC SYSTEM
How GPC Scan works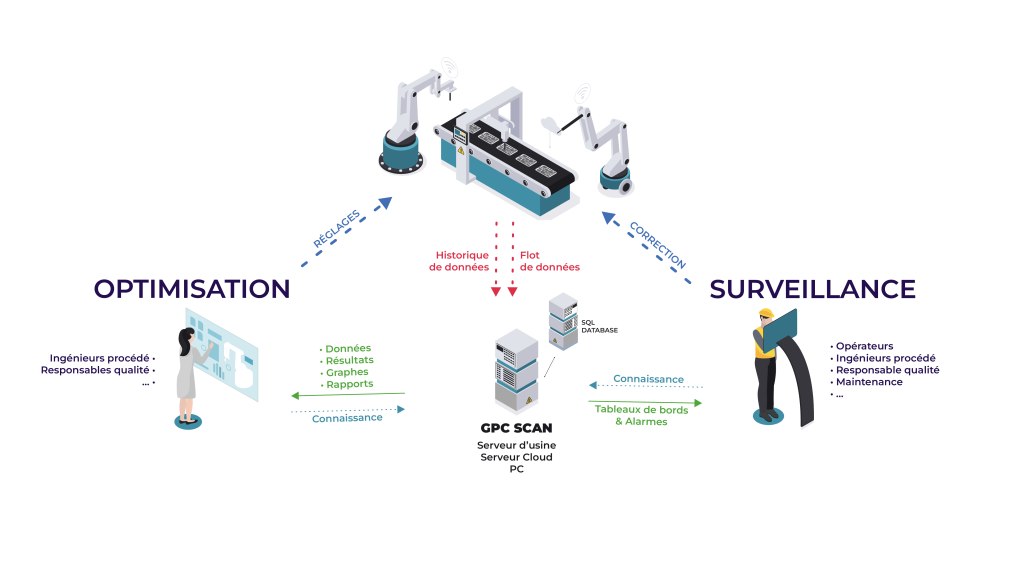 Web application


• on local or cloud server
Multi-users and multi-devices


• in surveillance
Ergonomic


• Offer suitable for different users




• Custom Dashboards
Integrates with existing
• Open to collaboration with other tools ( IA, MES, ERP, BI, …):
• SQL database, Rest API


• AI partnerships: Adagos (Neureco) , Intellitec (Xtractis)
Powerful


• Adaptable to processing curves, unstable systems
With GPC, every problem has its solution.
GPC software solutions will allow you to:
Analyze all of your production data
Identify disturbances
Alert your operator to the slightest disturbance
 
Permanently remove causes
Warn them
Give precise and effective instructions to operators
I'm interested,
how can I find out more?
GPC SYSTEM
Adopt the GPC System methodology